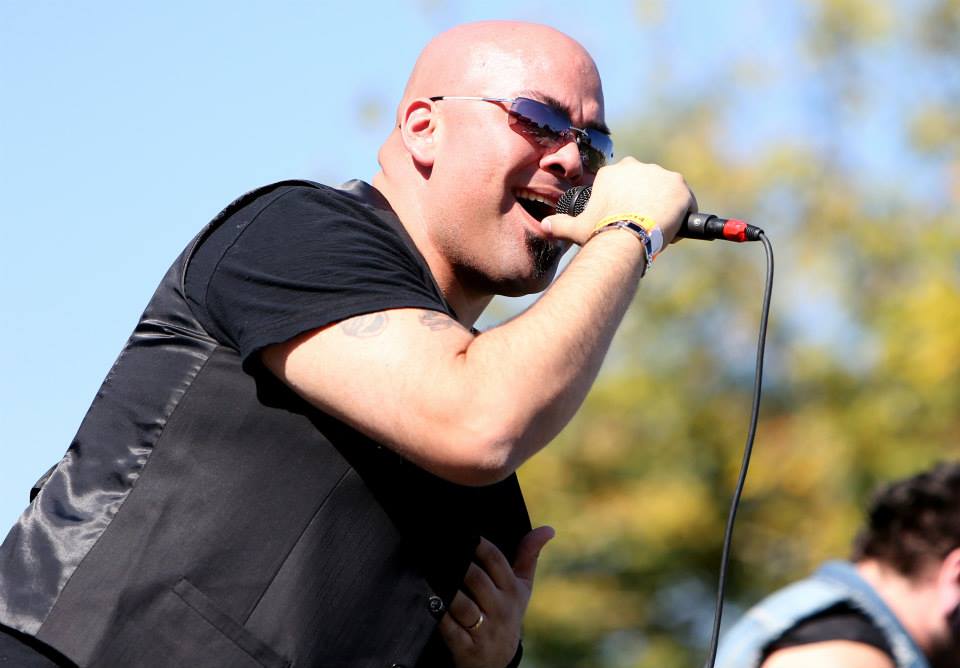 Carlo Sanchez
Lead Vocals

      At a young age Carlo Sanchez was called by God to minister to the world through his gift of singing, singing solos in church whenever given the chance. Throughout his teens and early twenties he chose a much different path that landed him briefly in jail, only to be used by God to lead worship for the very first time in the bible studies. It was then that he realized how God could use him to bring others into the presence of God, even when feeling so far from God himself. As always by God's grace, life goes on as he is now husband to his beautiful and encouraging wife Stefani and father to three, bursting with life and energy children, Raymond, Ariana and Zachary. He is originally from Redwood City CA and is currently living in Arizona. 
      After moving to Arizona in 2003, Carlo was encouraged by his wife to join the worship team of his church family. That is where he again found the meaning behind his true calling, leading worship and allowing others to truly focus on the calling of the Lord's spirit upon them. As a singer and one of the worship leaders at his church he states that, "There is no greater feeling then knowing that I am doing God's work by doing what I love to do most."
      Carlo has recently finished recording his debut solo album, "On My Heart". He chose to call the album "On My Heart", because it has been on his heart for many years to share God's message through music. He created this album with the hopes of conveying Christ's message of hope and love to the world. Although it is not a "worship album", this album has a variety of musical styles which he prays will be used to reach all kinds of people from different walks of life and allow them to worship God in a new way, their own way. You can find the album on -  iTunes: On My Heart by Carlo Sanchez OR CDBABY: On My Heart by Carlo Sanchez
      Carlo is also the worship leader for the ministry called Help Overcoming Painful Experiences (H.O.P.E.), leading worship for all their conferences across the nation. H.O.P.E. is a Christ-centered, non-profit organization that both cultivates and promotes the value of spiritual and emotional health from a Biblical perspective. "We help people of all ages overcome emotional pain and experience a life transformation with our care, support, encouragement and the hope in Jesus Christ." For more information about the H.O.P.E. Conferences and ministry please visit:www.helpovercomingpainfulexperiences.org
      Carlo is now the lead singer for Cloud of Redemption. In April of 2013 He became acquainted with Dustin Vaughn and they began writing songs together. It has become a natural union where Dustin writes the music and Carlo writes the melody and lyrics. They are looking forward to the plans that God has in-store for them and the band.
A note from Carlo:
"I sing because it is a gift that God has given me that I dare not waste. I sing because I love to. I sing because I have found that it is my favorite way to truly express my love and gratitude to the Lord for everything that he has done for me. I pray that my voice and music allows you to reach a new understanding of how God can be a wondrous part of your life. Be blessed in all that you do and thank you for listening."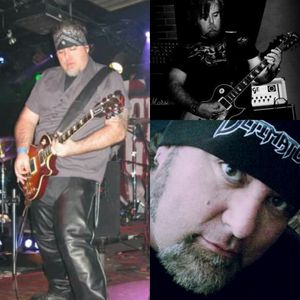 Justin Frear
Lead Guitar

Justin's musical obsession began by hearing the crunch of guitars from bands like Mötley Crüe, Kiss, Van Halen and Dokken, but before long, simply listening to the music wasn't excitement enough.  He picked up his first guitar in 1987 and after learning the tricks of the trade, by the end of that decade he was aggressively performing in the Phoenix area in several different bands.  By the early 90's, tired of the stagnating music scene, it was time to put performance on the back burner, and in the months spanning 1994 and 1995, two things occurred which would change his life irrevocably:  meeting his future bride, which in turn, led him to develop a relationship with Jesus Christ.  Encouraged to begin playing again, Justin dedicated his ongoing focus to glorifying God, which paved the way for a number of remarkable opportunities in the Christian metal circles including Tykküs (classic heavy metal), Ultimatum (thrash metal), Troglodyte Dawn (doom metal) and BlindSeven (progressive metal).  He has shared God's message wherever called, from tiny bars to large festivals, whether across town or across the country.
Justin draws inspiration from an eclectic mix of musical styles, and cites Jerry Cantrell, Zakk Wylde and George Lynch as his primary guitar influences.  His current Pandora shuffle includes Clutch, Dorothy, George Thorogood, Demon Hunter, and Sixx A.M. to name a few, and if you're feeling especially brave, ask him about P!nk, Kelly Clarkson and Meat Loaf.
Justin prefers Dickies pants, Gibson guitars, Harley Davidson motorcycles, Nikes, tube amplifiers, blue lightsabers, Grease, Café Americanos, Hanes socks, volunteer roadies, Savers over Goodwill, Señor Sushi, Craigslist Musical Equipment by Owner, the color black and the number 19.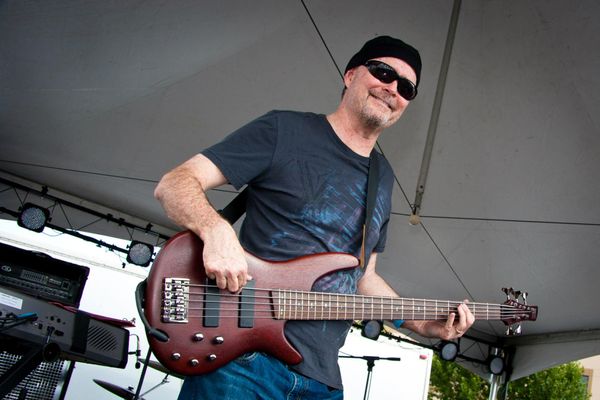 Bob Tufford
Bass / Guitar / Keys / really anything...

Bob's been playing keyboards, bass and guitar for worship teams and bands since his teens. Before moving his family to Arizona in 1995, he grew up in South Florida and was exposed to a rich variety of musical styles given the diverse culture of the area and played in various rock, country, funk, jazz, and Christian bands. He studied bass at FAU and his musical influences include Yes, Kansas, Allman Brothers, Tower of Power, Toto, Steve Winwood, Bruce Hornsby, Dave Grusin, Yellowjackets, Gary Willis, James Jamerson, Delirious and Switchfoot. He's currently part of the worship team at Desert Springs Church where he regularly plays keys and bass. When he's not playing music, he manages a System Engineering group for a computer company.
A note from Bob: "I truly believe the quote "Man's chief end is to glorify God and enjoy him forever" and I know I was created to do this through music."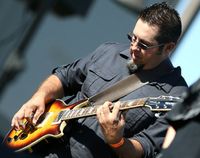 Gene Spaulding
Guitar

Gene provides the country music influence on the band. He picked up the guitar after hearing a family friend Gene Heiselt sing and play, "Ain't No Grave Gonna Hold This Body Down". He started playing the guitar 15 years ago and played for the AJ First Assembly of God worship team.  In 2008, he became the worship leader and led the traditional and contemporary services until 2012. Gene met Carlo Sanchez in 2011 through H.O.P.E.  and played acoustic guitar when needed for his worship team. In April of 2013, Gene joined Cloud of Redemption. Gene lives in Queen Creek with his wife Amy of 14 years and his children Alexis and Brenden. Gene is a professional Farrier by day (a blacksmith who focuses on shoeing horses) whose work is always in high demand in the South East valley of Phoenix.  When he isn't nailing red-hot iron onto the hooves of 2000 pound horses, he's jamming out licks alongside Dustin Vaughn for Cloud of Redemption.
A note from Gene: "God has blessed me in so many ways and being able to have led and play music and see people truly worship is such an honor and blessing from God there is just no words to describe it, I am truly blessed".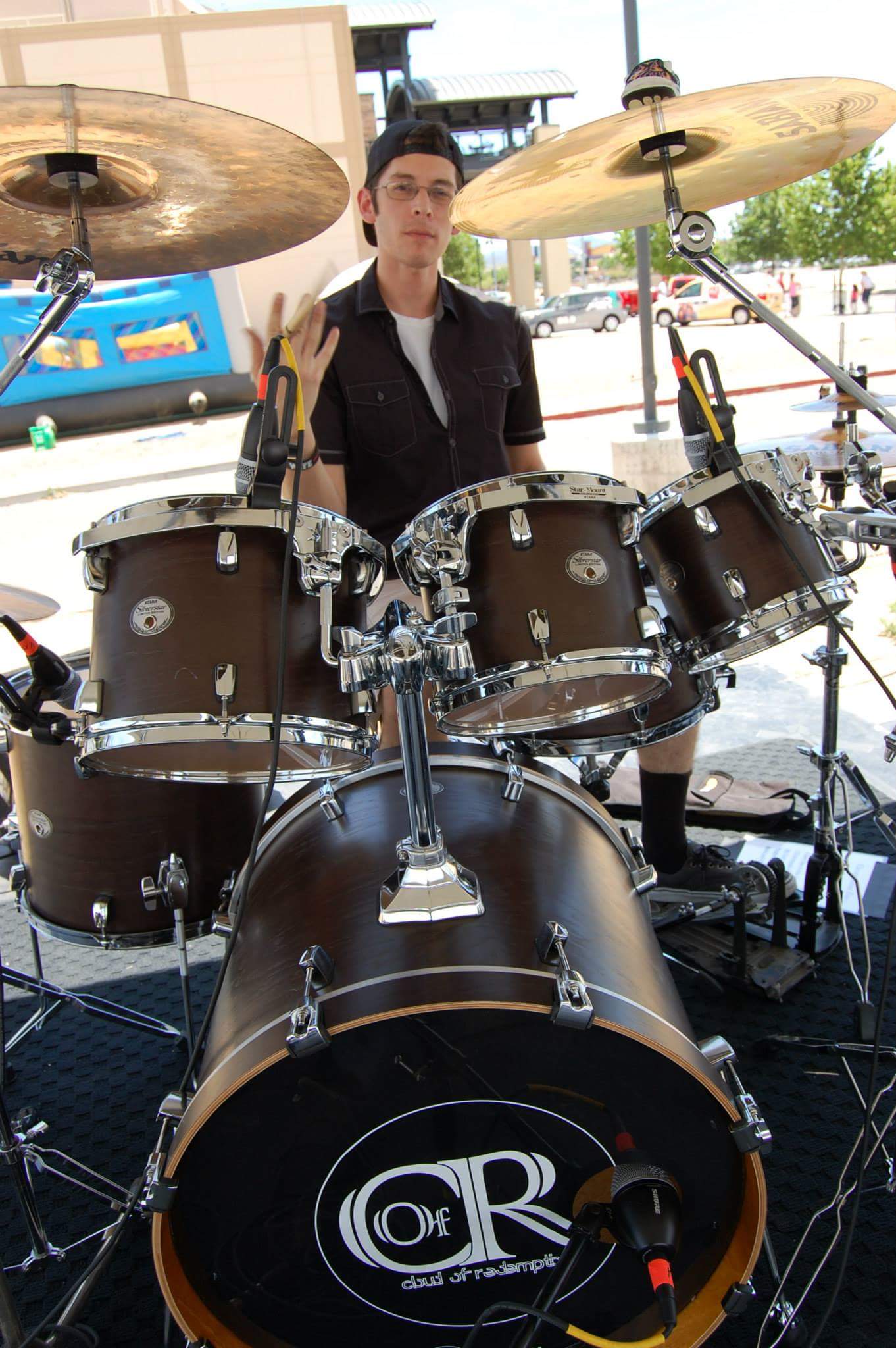 Joey Tapia
Drums / Background Vocals

Joey joined CoR in the spring of 2014. Born into a family of musicians in Douglas AZ, Jose (Joey) Tapia, grew up listening and learning Hispanic music.  He joined his parent's band on the drums at the age of 7 and began gaining on the road and the on stage experiences that come with live music.  At the age of 13 Joey transitioned into rock music with a group of friends.  Joey continued to experiment with different types of music throughout his teen years as well as learning to play other instruments such as the guitar and trumpet.  His family moved to the Phoenix area in 2004, where Joey soon discovered that the music scene was in much higher demand than in his small hometown on the border, he played everything in the Phoenix Metro area from hip hop and rock, to traditional Hispanic music and Latin jazz.  Joey continues to play with his family in church and at other evangelistic events.
Joey met Dustin Vaughn through work where he relentlessly bothered him in hopes that Dustin would let him play drums with Cloud of Redemption. 
A note from Joey: "God moved things in a way so I eventually was given the opportunity to play with The Cloud. I couldn't be more blessed to be making music for the glory of Jesus with this group of great musicians."